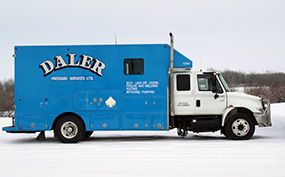 0-15000 PSI High pressure low rate trucks are perfect for small jobs, BOP's, Frac heads and well head tests.
Our 5,000psi to 15,000psi trucks are certified and have the ability to haul 3000lt of whatever chemical needed to test in a wide variety of situations.
Our Commitment to Safety
We are fully certified and are a member of the ISN network and have our COR safety certification.
We maintain the highest level of safety in accordance with Occupational Health & Safety.